sedation-free teeth cleaning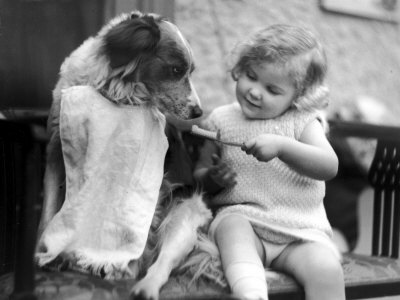 ---
upcoming dates:
Monday, April 7th, 2014
please contact us if you would like to book a
complimentary consultation with no obligation
or teeth cleaning

---
proper oral care is extremely important for good health and a long life!

Tartar-encrusted teeth are not just unattractive; they are absolutely dangerous to a dog's health.

Just as with humans, tartar or calculus forms on a dog's teeth when plaque – a combination of salivary proteins and bacteria – accumulates on the teeth and is not brushed or mechanically scraped away by vigorous chewing. And just as with humans, some dogs seem more prone to tartar accumulation than others. Some of this may be due to an inherited trait; it's also thought that the chemistry in some dogs' saliva seems to promote tartar formation.

However it happens to accumulate, the mineralized concretion acts as a trap for even more plaque deposits. Soon, the gums become inflamed by the plaque, and bacterial infections may develop. The dog will have bad breath and unsightly red gums. He may experience pain when he's eating his food, playing with toys, or during recreational chewing. Chronic mouth pain can cause behavioural changes, including crankiness and sudden onset of "bad moods." But even more serious dangers are lurking unseen.

When plaque deposits begin to form in proximity to and then, gradually, under the dog's gums, the immuno-inflammatory response begins to cause destruction of the structures that hold the dog's teeth in place: the cementum (the calcified tissue that covers the root surfaces), periodontal ligament (connective tissue that helps anchor the teeth), and alveolar bone (the bone that surrounds the roots of the teeth). As these structures are damaged in the inflammatory response "crossfire," the teeth can become loose and even fall out.

A more serious danger is the bacterial infection and resultant inflammation in the gums, which can send bacteria through the dog's bloodstream, where it can wreak havoc with the heart, lungs, kidney, and liver. Dogs with chronic health problems that affect these organs and dogs with immune-mediated disease are at special risk of experiencing complications due to periodontal disease. For this reason alone, owners of these dogs should be the most proactive in keeping their dogs' teeth clean.
prevention is the best medicine
Daily brushing and regular check-ups can be just as important for your dog as they are for you!

Some dogs go through their entire lives with sparkling white teeth, with absolutely no effort on their lucky owners' part. For dogs who develop tartar buildup very quickly, daily brushing with a toothpaste made especially for dogs can go a long way to reduce (although, probably not eliminate) the need for professional cleanings. Do not use human toothpaste, as it's not meant to be swallowed.

If your dog has already developed tartar accumulations, though, don't despair. But don't delay taking action, either, because tartar leads to gum disease which leads to systemic disease. Recent human health studies, in fact, have suggested that there may be a link between periodontal disease, heart disease, and other health conditions, and that gum disease may be a more serious risk factor for heart disease than hypertension, smoking, cholesterol, gender, and age. Speak with a certified dental hygienist and map out a management strategy. It might take as little as just one cleaning to get your dog back on a healthy track, enabling you to maintain his pearly whites thereafter.
how is sedation-free teeth cleaning different?
Sedation-free teeth cleaning is a healthy option to the traditional teeth cleaning performed by Veterinarians under anaesthetic. It is perfect for dogs with plaque and tartar build-up on their teeth, whose health issues make sedation detrimental, or if you would rather not subject your dog to unnecessary anaesthetic. The gentle procedure involves scaling, flossing, and polishing of your dogs teeth, without the inherent health risks of putting your dog under anaesthetic.

Gentle handling techniques are used to keep your dog comfortable in the lap of our dental hygienist Rhonda Hiebert, who is trained in animal behaviour as well as oral hygiene, and uses patience and trust to gain your dog's acceptance. Rhonda uses an ultrasonic scaler which is non-irritating to your dogs gums, unlike traditional metal scalers.

Sedation-free teeth cleaning is a hygienic technique, which is not to be confused with a medical procedure. Canine Oral Hygiene Specialists do not clean under the gum tissue, and do not perform x-rays, extractions or surgery. They are trained to recognize conditions which do require the care of a veterinarian, and will refer you and your pet to one when necessary.

The photos below are of one of Rhonda's canine clients, and show the dramatic effects of the benefit of teeth cleaning done with an ultrasonic scaler. Once the pet's cleaning was completed, he was set down with a pat and a kiss, and walked away wagging his tail.

which dogs benefit?
While all dogs can benefit from sedation-free teeth cleaning, some dogs may be adversely affected by anaesthesia, and yet would benefit from dental care. These candidates include dogs with tartar-encrusted teeth who exhibit any of the following:
• Poor kidney and/or liver function (detected with a blood test)
• Congenital heart defects (including murmurs), impaired heart function (such as congestive heart failure) or arrhythmia
• A recent injury or infection of any kind (even skin infections, including "hot spots," are good cause to delay scheduling any procedure that requires anesthaesia)
• A history of seizures

If your dog has one of the conditions listed here, or another health problem that concerns your veterinarian, he may be a good candidate for anaesthesia-free teeth cleaning.
a certified practitioner is important
It is important to choose a certified Canine Oral Hygiene Specialist, who has been professionally trained and educated, and follows a strict code of ethics. Spa Dog is pleased to offer our clients the professional services of our in-house practitioner Rhonda Hiebert, who is a member in good standing of the government registered
K9 Oral Hygiene Association
, and has been certified by K-9 Brite Bark in Victoria, BC.
how much does it cost?
All visits start with a 10 minute complimentary consultation with no obligation. If your dogs teeth are in great shape, Rhonda will send your dog home with a glowing review at no charge. If a cleaning is needed, prices vary from $100 to $400 for the initial cleaning, depending on the degree of buildup and time involved to thoroughly clean, floss and polish the teeth. Follow up check-ups are complimentary, and follow up maintenance cleanings are less costly and vary in price as well. Please consult Rhonda about your pet's specific needs, and she will be happy to provide you with a quote.
how long does it take?
Your dogs teeth cleaning appointment will run approximately from 1 to 2 hours.
what happens at my dogs appointment?

Our dental hygienist Rhonda will give your dog a complimentary consultation at the beginning of your appointment, and let you know what will be involved with your dogs teeth cleaning, as well as a quote. After your consultation, it's up to you whether you would like to leave your dog with her, or take the information home with you to think about. There is absolutely no obligation.

cats need clean teeth too
Although Spa Dog currently does not offer grooming for cats, Rhonda does provide dental hygiene services for cats. Please contact us to book an appointment for your feline friend.